Welingkar Institute of Management Development & Research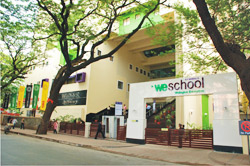 At the Welingkar Institute of Management Development and Research our vision is to nurture thought leaders and practitioners through inventive education. Part of our mission is to pay attention to inventive education by offering useful, innovative and technological driven programs and contribute significantly towards the Indian corporate world by preparing management graduates using a global mindset. Provide managerial talent with risk managing ability, passion for learning and creative thinking as well as develop alumni network of mutual benefit is also part of the mission. Through the leadership and vision of Prof. Dr. Uday Salunkhe, Welingkar Institute of Management has been ranked in the top 16 in the Economic Times – India Inc's preferred B Schools survey 2011 as well as 7th in West India and 16th overall in India's Top 50 Business Schools by the Hindustan Times Best B-Schools in India survey in 2010. Under Prof. Dr. Uday Salunkhe's experienced leadership, the institute has been ranked 8th in the private B-School category by Outlook in the B-School survey in 2008, 3rd in Student Exchange Program category and 7th in Faculty Exchange Program category.
In its latest accolade, WeSchool was ranked 10th in India by the Times of India B-School survey in 2015.
Welingkar has won several awards in recognition involving leadership, development, innovation and industry interface with regards to business schools. Under the able guidance of Dr. Uday Salunkhe, WeSchool continues to attain greater heights by introducing a slew of new courses benefiting the new-age students' community. Prin. L. N. Welingkar Institute of Management Development (WeSchool) was honoured with the 'Best Management Institute of the year award in 2015. WeSchool was previously honoured with the 'BMA Outstanding Management Institute of the Year Award' in 2010 and 2013.
The institute was also the recipient of the JJ Irani Award as the Best Management Institute, in September, 2006. Uday Salunkhe has initiated several international partnerships for Welingkar with universities across the world to facilitate faculty & student exchange programs, study internships in the United States, United Kingdom and parts of Europe that include Sweden, France etc.
The Dewang Mehta Business Award which is an award that recognises talent and leadership amongst the Business Schools across India was awarded to the institute in 2008 for the following:
Business School which encourages Innovations that lead to better development
Business School Leadership Award
Business School with Best Academic Input (Syllabus) in Marketing and Retail / Services

In February 2011, the Economic Times did a story on how students from non-IIM institutes, like Welingkar, were receiving prestigious offers from companies in the Finance and Information Technology sectors. Programs started by WeSchool, run by Shikshana Prasaraka Mandali, are:


Post Graduate Diploma in Management in Business Design (PGDM-BD)
Post Graduate Diploma in Management in E-Biz
Post Graduate Diploma in Retail Management
Post Graduate Diploma in Healthcare Management
Post Graduate Diploma in Rural management (emerging economies)
Post Graduate Diploma in Management (Executive)
Post Graduate Program in Entrepreneurship
Post Graduate Program in Telecom Management (PGPTM) and Certificate Course in Telecom Marketing & Management (CTMM)

At Welingkar, we track the needs of current economy and accordingly launch new courses which are always in sync with the demand. Ensuring a skilful training and knowledge transfer to students at Welingkar is our crucial philosophy.